EcoImpact
Enterprise Platform for Success
Seamlessly manage and optimize your sustainability insights on a single platform with EcoImpact.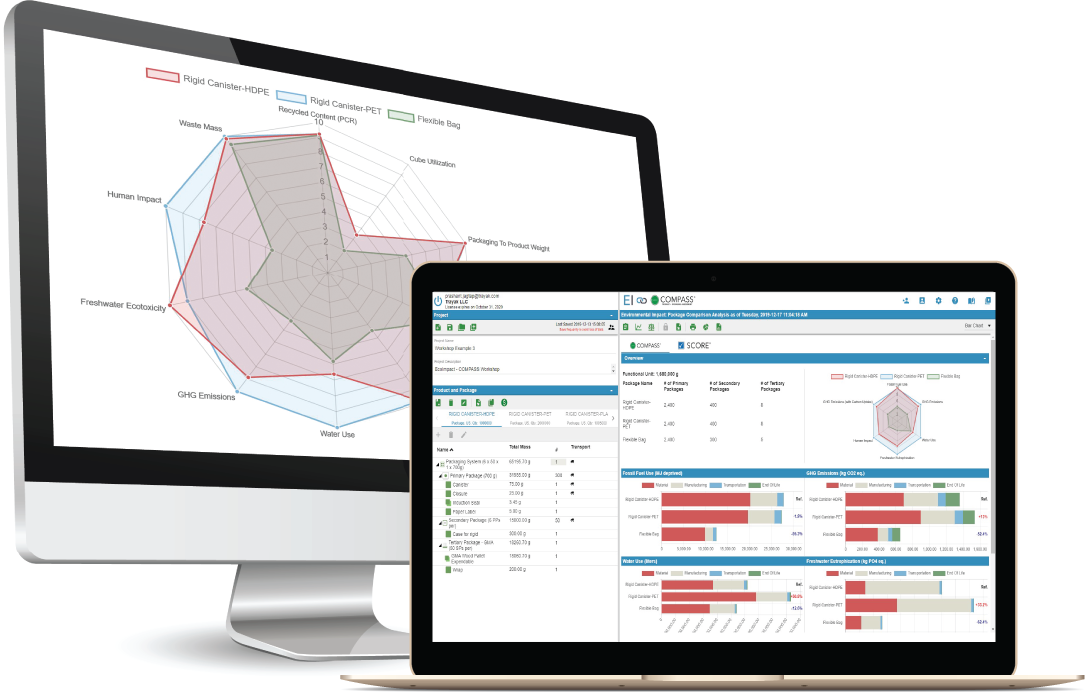 Comprehensive, Reliable, & Certified
Trayak's EcoImpact sustainability platform sets itself apart as the most complete and leading sustainability platform for products and packaging. EcoImpact is certified to enable ISO 14040/14044 conformant Life Cycle Assessment (LCA), ensuring the highest level of reliability conformant to internationally recognized standards. Confidently assess the sustainability performance of your products and packaging, make informed decisions, and drive positive change with data-driven results.
The security and confidentiality of client data is our top priority. Which is why Trayak's EcoImpact sustainability platform is ISO 27001 certified, a testament to our commitment to maintaining the highest level of information security management practices. With this certification, our clients can trust that their sustainability data and insights are protected and handled with the utmost care.
Our dedication to excellence and reliability has earned the trust of industry leaders across various sectors. From established market leaders to emerging innovators, a wide array of organizations rely on the EcoImpact sustainability platform to meet their product and packaging sustainability needs. Don't just take our word for it – explore our testimonials  to see how our platform has made a tangible impact on sustainability.
Unlock the power of data-driven insights on a single platform to guide your sustainability initiatives with precision and accuracy. Trayak's EcoImpact sustainability platform seamlessly integrates with your existing ERP, PLM, or other Spec Management systems and data sources. Gather, analyze, and visualize sustainability metrics in a centralized and comprehensive manner to elevate your view of sustainability performance. Identify trends, optimize resource usage, and minimize environmental impact.
Trayak's EcoImpact platform streamlines your data collection and reporting process, saving you valuable time and resources. With automated data gathering and powerful BI analytics, you can generate comprehensive environmental reports and meet the increasing demands of stakeholders, customers, and regulatory bodies. Our robust data integration capabilities ensure that you have accurate and up-to-date sustainability information at your fingertips, empowering you to drive meaningful change and communicate your sustainability achievements effectively.
Future Proofing Your Investments
Since the introduction of EcoImpact in collaboration with the Sustainable Packaging Coalition (SPC), we have witnessed a remarkable evolution in the sustainability landscape. Trayak's EcoImpact sustainability platform evolves and adapts with it – through innovative design that not only meets current requirements but also anticipates and caters to future needs, even in the face of uncertainty. For more than a decade, we have continually invested in the EcoImpact software to ensure its place as the leading, cutting-edge solution for product and packaging sustainability.
The EcoImpact sustainability platform is designed to scale with your business needs, ensuring that as your company evolves, so do your sustainability strategies and tools. Navigate the complex landscape of sustainability with ease and anticipate market shifts, adapt your strategies accordingly, then capitalize on emerging trends to drive excellence. Trayak has the solutions and expertise to support your growth at every step of the way.
EcoImpact – Sustainability Platform
Global Access & Deployment
Enterprise SAAS
ISO 27001 Security Certified
MFA Security
SSO Available
AWS Cloud Hosted
First LCA within 30 minutes
Intuitive & Easy to Learn
Collaborate Internally & externally
Scalable (product categories, regions)
Grow with your needs
Fits in your company work process
ISO 14040 conformant LCAs  •  Full LCA report including 3rd party review available